Data Science
For Everyone
Data Scientists, Software Engineers, Consultants, Operations Researchers. Our team is assembled from passionate professionals, seasoned with both academic and industry experience.
We believe that the world would be a better place if people trusted the data of the past rather than their own biased opinions, when making decisions. Helping businesses flourish, so they can affect change, is the first step…
Are you seeking to automate parts of your business? Utilize all the data you have gathered to make strategic decisions? Maybe just starting and want to learn more on data mining in general?
Then you are in the right place!
We need to learn more about you. Please invest some time and explain to us what is it you are trying to do.
Or you can always go ahead and use the products we have already pre-built.
Get Yourself Machine Learning Ready
Unfortunately, not all businesses are ready to mine the valuable data that their day-to-day operations produce.
We have identified four basic pillars that a company has to work on in order to fully exploit the untapped potential of a data driven business model.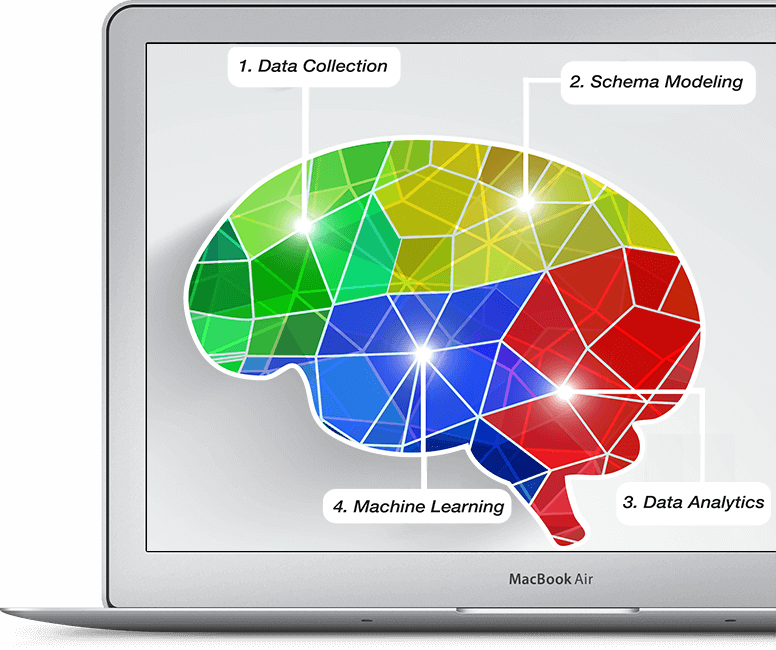 Client Reporting Reimagined
Collecting, storing and presenting data to clients is one of the fundamental blocks of every business.
An additional challenge is understanding how your customers interact with your reports in order to further optimize your decision making processes.
With this in mind we created Chartico™,  the first reporting platform that easily allows you to track and analyze your clients viewing behavior.
By correctly modeling your business's data, you can get valuable insights, forecasts, clustering patterns and analytics to help you automate processes and scale your business.

Below we present a case study on monthly sales analysis, based on the user segmentation we identified after performing K-Means clustering on the gender and activity patterns.
This way we can understand the behaviors of the different groups that emerge and create strategies on how to target them better and bring them back to our funnels.
If your business would benefit from analyses like the above, have a chat with Chimereon.
Chimereon will advise on next steps based on your business's needs and current capabilities.
Looking For Something Different?
Like the mythological Chimera, we also carry different mantles.
Each division of our company is represented by a different avatar and focuses on a different vertical of your business.
All of these together create a powerful and versatile intersection that will help your business grow in every direction.
Find more information on each of our departments by hovering over the tiles below.
Our field engineers will help you ask the right questions.
They will use their industry expertise to provide actionable items and determine the state of the art methodologies necessary to achieve your objective.